Compliant Hosting Solutions
Cabinet Colocation
Secure, Reliable, Scalable and Customizable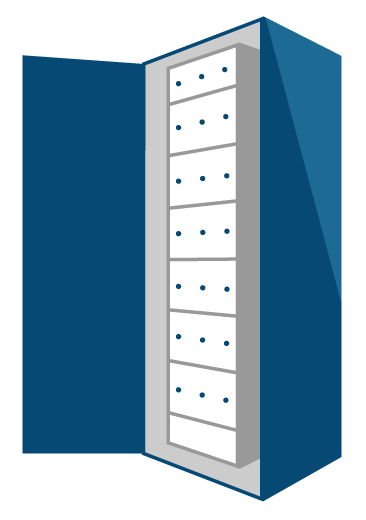 If you are looking for a reliable colocation solution for your IT needs, ByteGrid has a flexible range of options for your business. At ByteGrid we understand that mid-size and Enterprise businesses struggle with the rapidly changing technology requirements. We are here to help.
Our mission is to understand the demands that our customers have when selecting a data center provider and facility – demands that go well beyond the initial lease for power, space, and security. We understand that the decision our customers make in selecting a data center partner is a strategic one that involves a long term relationship based on trust and the very best service.
We believe that our customer's are our number one priority - and we dedicate every resource from the top of our organization to the bottom to deliver workable solutions. We start with the knowledge that our customers need world class facilities that are robust, reliable, secure, and proven; and continue with the knowledge that they need a partner who can be responsive to their needs, and deliver unparalleled service and customized solutions.
Customizable Colocation Solutions
We offer a wide range of capabilities to choose from:


2kW to 12kW/Cabinet
A-B Power Supply - Typical Circuit to support 2kW-5kW load is NEMA L21-20 (208V, 20A, 3 phase)
Tier 3 Uptime Institute standard of infrastructure availability
Network 10MB to 1GB Burstable
100% uptime SLA
Remote/Smart hands services with 24/7 NOC support
APC AR3100 Cabinets (BYOC: Bring your own cabinet, option available)
Customized cabinet security in addition to 6 layers of physical security which includes dual authentication (Bio metrics – iris scan and Card reader)
24/7 Security with surveillance
24/7 Facility Engineers on site Dual pre-action fire suppression system (dry pipe)
DCIM access via Tenant Portal
Half Rack Also Available
16 Usable Rack Units
FREE Remote Reboot
1 20 Amp Circuit
Dedicated Switch (16 Ports)
2 mbps Bandwidth
Secure & Compliant Data Center Facility
14 IP Addresses
ByteGrid has other options available to suit your needs as well.
For more information on cabinet colocation, please contact us or call 855.495.0098.