Compliant Hosting Solutions
Disaster Recovery as a Service
ByteGrid offers a comprehensive selection of managed disaster recovery solutions for every business.
ByteGrid understands that there is a very specific value to data and its criticality. That's why having a disaster recovery plan to protect IT infrastructure is critical to a successful business. However, not all organizations have the same needs, and ByteGrid has a selection of managed disaster recovery options to meet any requirements.
The chart below outlines the various levels of service that ByteGrid offers to match your specific RTO/RPO objectives and budget. Whether it is backing up important databases or a more complex replication solution, ByteGrid has the expertise and technologies to service you.
Disaster Recovery Options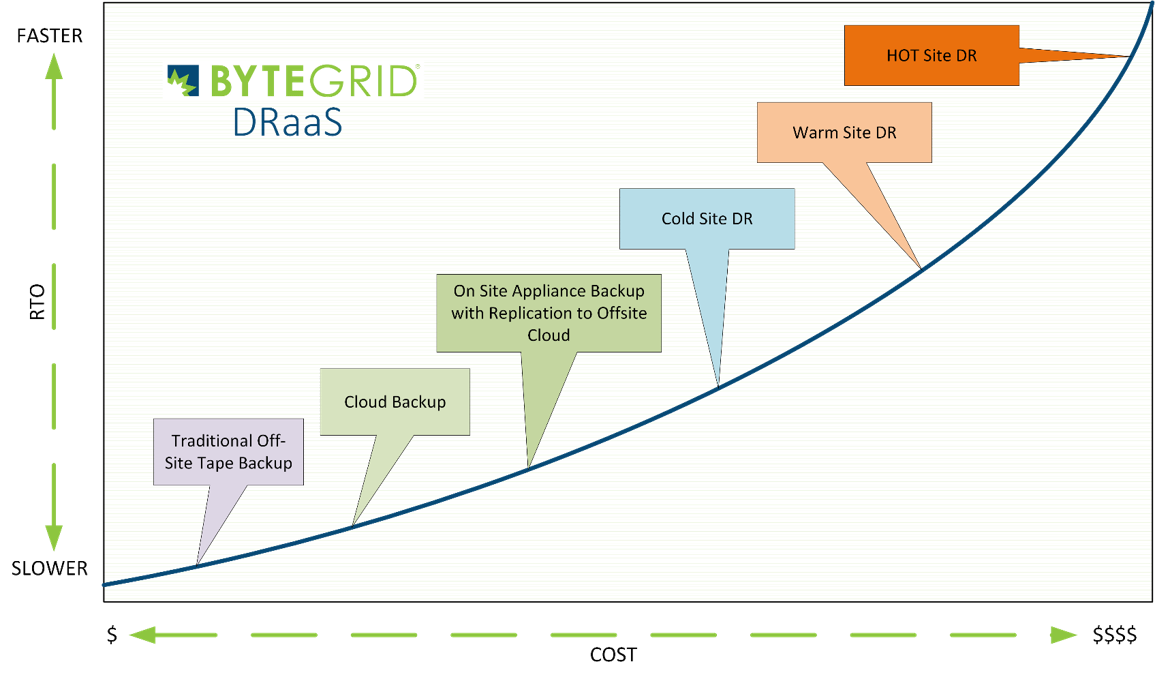 Flexible RPO and RTO to meet your objectives
Options ranging from hot site DR to cloud backup & archiving
Multiple data center options
Encryption and security
Failover from on premise to cloud or cloud to on premise
VMs, physical servers, and SANs

How We Can Help
ByteGrid utilizes multiple systems to ensure data protection and disaster recovery. For mission-critical data where the Recovery Point Objective (RPO) and the Recovery Time Objective (RTO) are in minutes, ByteGrid offers a compressive replication-based solution. If the data isn't as critical and the RPO and RTO is longer, we offer comprehensive data protection services. This blended offering provides the best possible yield of protection for the criticality of your data.
ByteGrid's DRaaS (Disaster Recovery as a Service) is based on the premise that you will want to recover with a minimum RPO for all tiers. However, to enable full recovery in cases such as virus attacks, the ByteGrid solution provides the ability to recover to a point in time between 1 and 14 days prior to the disaster depending on how the tier is configured. When recovery earlier than 14 days is required, the solution provides an extended recovery using ByteGrid's secure private cloud storage. This enables our customers to recover to the ByteGrid recovery site based on a daily or weekly backup going as far back as one year. Optionally, our customers can elect to extend the backup period beyond one year to meet their exact retention schedules.
The best way to avoid downtime is to eliminate single points of failure. As you add redundancy, your ability to recover data rapidly improves—but the cost does increase. We understand that DR can become costly to businesses, so we can offer you an experienced team of DR specialists that can help design the right solutions based on your risk tolerance, and ensure they meet your recovery objectives and budget.
For more information on Disaster Recovery, please contact us or call 855.495.0098.